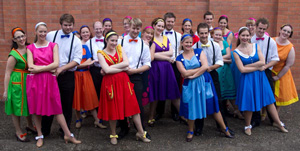 The Show Choir was established in early 2010 providing members with the opportunity to perform a variety of fresh, popular music. The vision for the Cambrian Show Choir is to provide music and performance experiences that foster personal creativity, expression and professional growth. The Show Choir aims to be a collaborative choir, with members having input into song choice, costuming, choreography, direction, etc.
The Show Choir is a non-auditioned capped choir with the age of members ranging between 18 and 45 years.
Members must be an ordinary members of the Blackstone Ipswich Cambrian Senior Choir with membership fees payable on an annual basis.
One aim of the Cambrian Show Choir is for all members to be actively involved in the direction of the Choir. All members will have the chance to be part of the direction, accompaniment and choreography of musical numbers, as well as being able to perform.
If you are interested in joining the choir, please CLICK here.
The Show Choir will perform at least one solo concert per year, and will also appear in other Blackstone-Ipswich Cambrian concerts. The Choir is also available to perform at other events and concerts.
Director of music: Michelle French

Regular rehearsals are held on Wednesday evenings from 7.00 till 8.30pm at the Cambrian Centre, South Station Road, Booval. Additional rehearsals may be called from time to time for special occasions.
Blue chiffon blouse with black singlet underneath
Black pants
Black shoes
Blue button-up shirt, with sleeves rolled up
Black pants
Black shoes
Various other costumes will be worn from time to time to match particular pieces and/or performances.